Core capabilities
Professional visualization
ODA Facet & Solid Modelers for dependency-free geometric modeling
Multi-level model validation
Access attribute values using C++, SDAI & Common Data Access interfaces
bSI official partner
since 2019
buildingSMART. Uniting the industry in a spirit of collaboration to create open standards.

ODA. Realizing the full potential of open standards through collaborative development.
Collaborative development
Access
Supported File Versions
IFC2X, IFC2X2, IFC2X3, IFC4
Lastest IFC4.3 [RC4]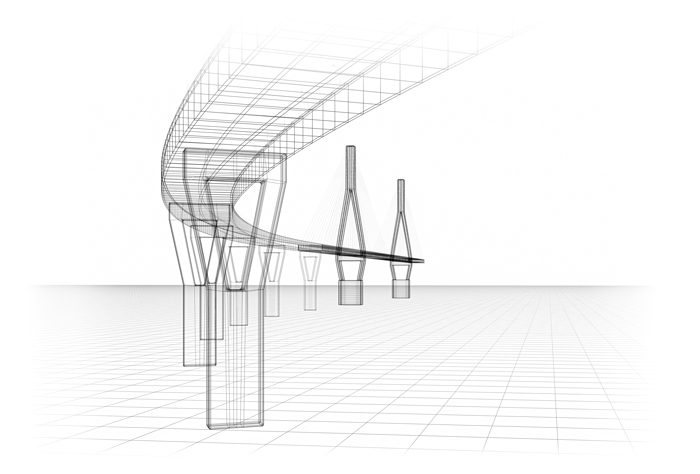 ---
ODA C++ late bound API, ISO-10303-24 SDAI for working with model data

Read/write into ifcSPF/ifcHDF5/ifcXML (including ZIP versions)

Early-Bound access to instance attributes using pre-compiled generated classes for established schemas

Access to all meta-data defined by EXPRESS schema

Derived Attributes/Where Rules and Global Rules evaluation with EXPRESS Interpreter

Runtime Schema initialization from EXPRESS files allows fast delivery of support for new and experimental IFC schemas
Exchange
Import

IFC

Export

DWG*
Navisworks®*
PDF
OBJ
Roadmap
Production

Production

Federated IFC models
IDS API for data management
ifcXML4 support

Beta

2022 December
Visualize
Visualize IFC data on the desktop or from any web-based application
Performance

Spatial filtering and other performance enhancing techniques provide fast visualization of IFC data, even for large models.

Navigation

Standard navigation features include zoom, pan, 3D rotation and more.

Materials and Lighting

Use materials and lighting effects to create a high-quality, realistic visual representation of a model.

Visual Styles

Use visual styles to customize your rendering of silhouettes, obscured (hidden) edges, transparency and more.
Collaborate
on web with Open Cloud
Fast visualization of IFC models in any WebGL-enabled browser
IFC models validation
More about ODA Open Cloud
Publish
Publish IFC models to 3D PDF or 2D PDF
Interactive 3D or standard 2D documentation

100% compatible with ISO standards and Adobe tools

Create PRC-based 3D PDF documents with full B-rep models

Add animation, interactive views, parts lists, and more
More about ODA Publish