IMSI/Design: power, performance and mobility
The challenge: free time to focus on innovation
CAD is no longer confined to the drawing office. Architects, engineers and project managers can quickly and conveniently look at large scale 3D plans on an iPhone™ or iPad™ as they walk around a busy construction site. This was first made possible by TurboViewer™, a family of free applications from IMSI/Design that delivered the first iPhone and iPad viewer for native 3D .dwg files.
TurboViewer was the first in a series of next generation applications designed specifically for the AEC (Architecture, Engineering and Construction) sector. It is exactly this sort of innovation that users have come to expect from IMSI®/Design, which develops TurboCAD®, the number one best-selling CAD in retail outlets.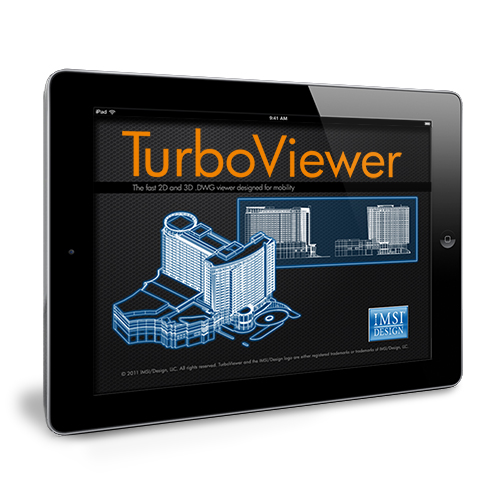 The global leader in retail CAD, with over 16 million CAD products sold since 1988, IMSI/Design's range also includes DoubleCAD™, DesignCAD™, TurboFLOORPLAN™ and Renditioner. These deliver power and ease at an affordable price. "We think of most of our users as prosumers," comments Bob Mayer, Chief Operating Officer. "They are professionals seeking value for money, particularly those who opt for TurboCAD."
When IMSI/Design launched TurboCAD in 1990, it was one of the only companies marketing and selling CAD software at consumer level prices of $100 or less. "We began writing our own .dxg and .dwg files," Bob says. "As .dwg is the accepted standard in CAD/CAM, we had to ensure complete compatibility in order to be competitive as a company and this meant that we were continually upgrading our files to keep in line with the industry."
He continues: "Over the years this became increasingly cumbersome and time consuming. We found that we were focusing on compatibility issues rather than on functionality and innovation with the core application. It gradually became clear that we needed to work with other companies to pool resources and share the expense of hiring dedicated engineers with the appropriate expertise."
The solution: sharing the cost of development
It was the decision to cooperate with others that led IMSI/Design to become one of the founding members of the ODA in the late 1990s. Membership of the ODA enables CAD companies to share the cost of developing code and to Bob this is a measurable business advantage. "In 1998 we began receiving a range of library files, now known as the Teigha platform. We integrate the files with our own development environment so that we maintain our individuality and can continue to create plug-ins for AutoCAD. This is so much more efficient than creating them for ourselves."
Bob explains that TurboCAD is most often compared to AutoCAD®. "We try to take advantage of this comparison by actually extending .dwg compatibility beyond AutoCAD's capability, with support of intelligent architectural object types such as walls, windows and doors, something that only more expensive products like AutoCAD Architecture and Architectural Desktop support."
"By using Teigha, we have been able to focus all our effort on customers." Bob Mayer, Chief Operating Officer, IMSI/Design
The result: creating new functionality
According to Bob, .dwg compatibility is one of the most important issues for IMSI/Design products. "Our customers demand it, so we have to provide it. Our subscription to Teigha is therefore an opportunity cost to the business. It means we can focus on extending and enhancing our code and we can do this more quickly."
With its comprehensive interface TurboCAD appeals to traditional users such as those working in AEC, CAM and specialist engineering. It is also perfect for multi-disciplinary users such as jewelry and woodworking professionals, garden and interior designers, and those passionate hobbyists that make up a significant percentage of IMSI/Design's customer base.
"We can trust the ODA to deliver .dwg basics while we concentrate on developing new and innovative products on both existing and emerging CAD platforms," says Bob. "We have already taken advantage of Teigha technology that allows us to read a .pdf file containing vector data and use it as a layer that can be traced to incorporate mapping details into designs and plans. This capability is now included in our professional product. Our use of Teigha enables us to focus on what we do best – create new functionality for a wide range of users."
All Customer Stories