Xinet: the perfect solution for managing CAD files
The challenge: meeting growing demand from CAD users
Digital asset management (DAM) is the domain of Xinet, which serves customers in more than 30 countries from offices in the US and Germany. Its flagship Xinet WebNative® Suite enables customers to manage media assets through a visual database of multimedia files kept in a central location, organized to suit exact requirements and available to users worldwide. Employees and guests can quickly and securely search, preview, download, upload, repurpose and share using a web browser, from desktop or mobile device.
Incorporating a robust file server and production engine; an enterprise-strength SQL database; a secure, multi-server asset management system; and features that expedite unique workflows, WebNative Suite offers value, simplicity and speed. For Xinet customers these tools support quality control, version tracking and approval. They enhance multi-site collaboration and open up opportunities to provide value-added client services such as asset storage with instant access anytime, from anywhere.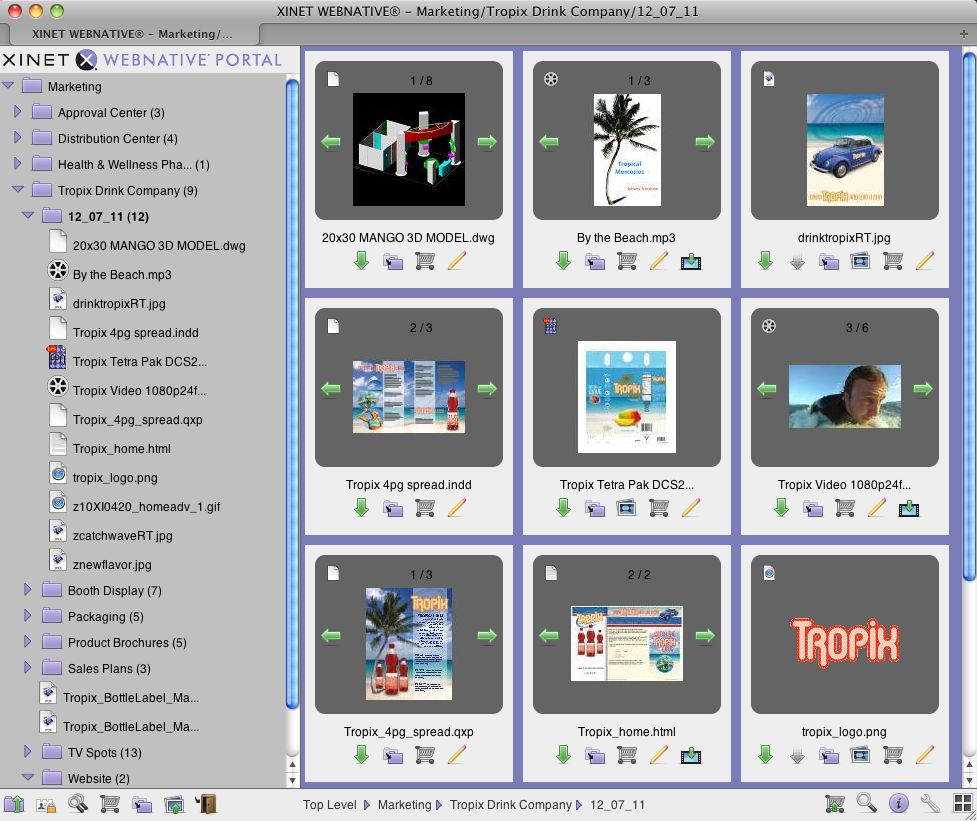 "We are giving our customers control," explains Chief Executive Officer Scott Seebass. "With user permissions, they can easily manage who can see and alter files and how they can be distributed. With control comes efficiency. When members of staff responsible for creation and production no longer have to spend time responding to requests, converting files and distributing them manually they are free to perform more complex, revenue-generating tasks and that boosts the bottom line."
When Xinet was founded in 1991 it was fulfilling a need within the graphic design and media industry. Since then Xinet has expanded into a range of markets as every industry has inevitably acquired digital assets. Seebass continues, "The benefits vary a little depending on the sector but essentially we make it easy for people to do their jobs and manage assets without the burden of others asking for help. We noticed an increasing demand, in particular from CAD users, who told us that they were always being asked to find assets and generate them into a format readable to the general user."
The solution: responding to specific needs
The company decided to research this potential market to see if it could tailor its platform for CAD users. "We requested documentation from the ODA and every question we raised was answered thoroughly. We could see the care and professionalism that had gone into the development of Teigha." Xinet also sought feedback through preliminary user trials. "We were given some very clear direction, for example, CAD users wanted the ability to zoom. In providing this feature we found that we could search text, and after a request to include video files as digital assets we decided to add that function as well."
"For us, Teigha seemed like a perfect fit," comments Seebass. "We initially signed up for a Sustaining subscription so that we could check out the benefits. Once we had determined that Teigha provided what we needed we moved up to Founding subscription level."
The result: opening up a new market
WebNative Suite allows CAD users to share and interact with digital information in a new way that makes sense to them without interfering with CAD server integrity.
WebNative Suite 17, which was released in December 2011, introduced support for CAD. "Our product is a sophisticated database. Each time a digital asset is added the system attempts to extract metadata, generate different levels of previews and index text. This gives users the ability to search both objects and words. They can ascertain particulars such as the size of a product. Then they can zoom in and rotate, re-rendering as they go, see fine details, read accompanying text and even see a short video."
"The additional capability we have acquired through Teigha and now offer through WebNative Suite 17 has opened a huge potential market for us, especially within architecture and engineering," says Seebass. "CAD is an area in which we are leading the way in DAM. It currently represents a small percentage of turnover, however we estimate that it could lead to a 20 - 25% increase in product sales."
All Customer Stories